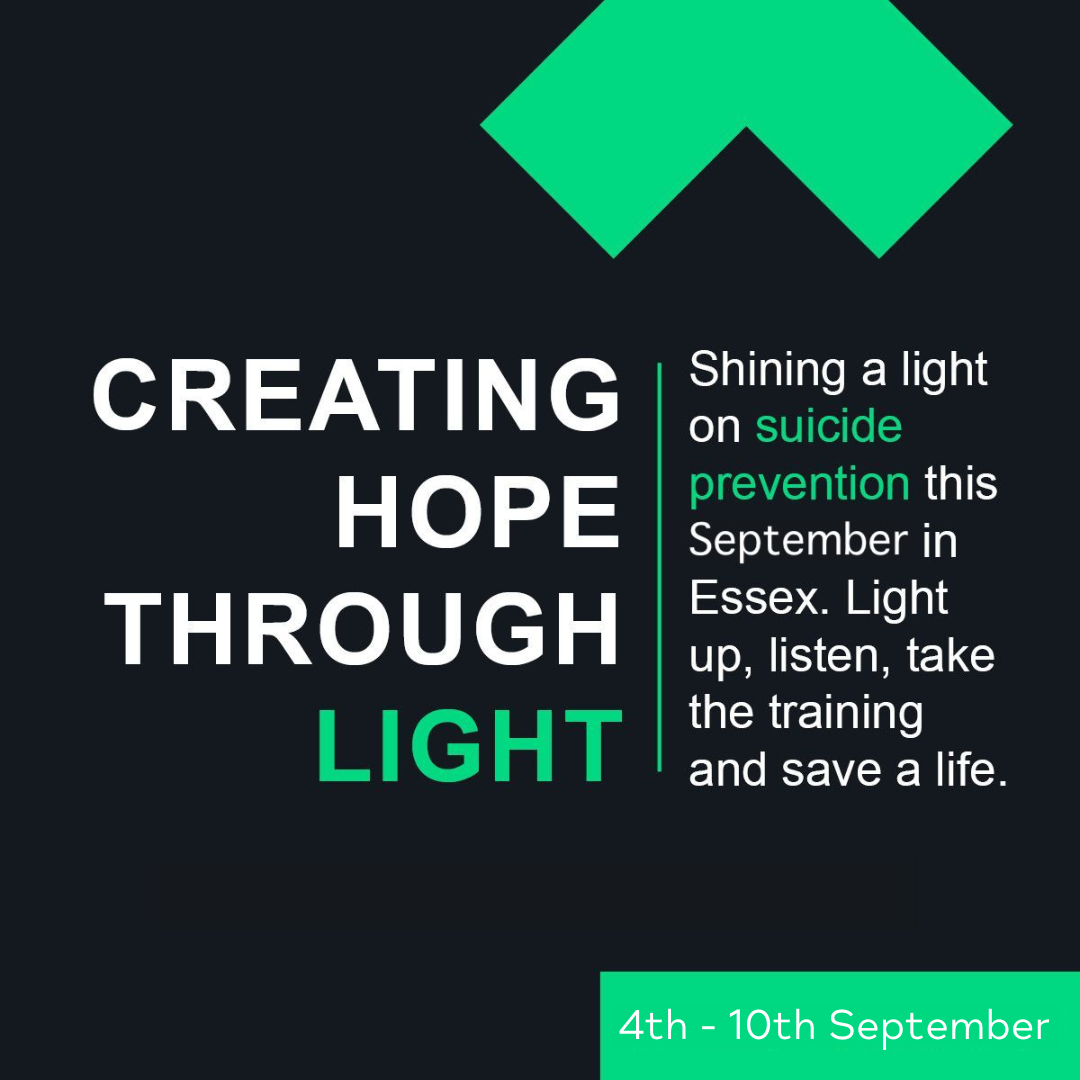 From the 4th to the 10 September, organisations, people and communities across Essex are lighting up buildings and landmarks green.
This is part of the 'Creating hope through light' event for World Suicide Prevention Day, which takes place on the 10 September.
The 'Creating hope through light' week-long event, hopes to raise awareness of suicide prevention and challenge Essex and Herts residents to take the FREE suicide prevention training, which can be accessed on Let's Talk About Suicide.
It's a joint initiative from Mid and South Essex and West Essex and Hertfordshire Integrated Care Boards and Thurrock and Brentwood Mind as part of their #LetsTalkAboutSuicide campaign. It's aimed at reducing the stigma around talking about suicide and encourages people to take the free online suicide prevention training, as well as highlight the other mental health resources available in Essex and Hertfordshire.
The suicide prevention training focuses on three key elements See, Say, Signpost. See the problem, Say the words, Signpost to support and it gives people the knowledge and the confidence to talk to someone who might be at risk of or thinking about suicide.
Alfred Bandakpara-Taylor, Deputy Director of Mental Health at NHS mid and south Essex ICB, said:
'We want people from across mid and south Essex to challenge their friends, family, work colleagues, their communities, and the organisations they work for to become a part of our 'Creating hope through light' event this September to help prevent and reduce suicides. Whether it is lighting a building green, talking to other people about preventing suicide or taking the training - you may help save someone's life.'
So far, the following places have been turned green in Southend-on-Sea:
Southend City Beach
Southend Porters Offices
Southend Civic Offices
South East and Central Mind Office, Southend
The most up to date roadmap of all places across Essex can be found at the Let's Talk About Suicide website.
Lynne Morgan, CEO, Thurrock and Brentwood Mind said 'We are deeply humbled by the response from organisations that have already stepped up by supporting the 'Creating Hope through light' campaign, as well as challenging their own staff to take the training. This is the third year we have run this campaign and every year we hope more people and organisations will join us and get as many people as possible taking the suicide prevention training. The past few years have been challenging for everyone off the back of COVID and the cost of living crisis, now more than ever we think this kind of training is vital for everyone to help spot someone who may be struggling.
People can also take part by joining the social media campaign on #CreatingHopeThroughLight, as well as upload personal messages and videos using the campaign resources available on www.letstalkaboutsuicide.co.uk. You can also follow the campaigns on Instagram, Twitter and Facebook.
In Essex, in 2021, 115 people took their own life. Suicide is in fact the leading cause of death in the United Kingdom in men under 50.
Thousands of people experience suicidal thoughts and feelings every single day and coupled with COVID-19, we are now amidst a mental health crisis.
Suicide is a preventable and avoidable death, and we believe everyone should know how to talk and support someone who is having suicidal thoughts.
Could you spot the signs of someone who is struggling with their mental health? Would you know how to have the conversations with someone? Would you feel comfortable saying the word suicide to a loved one or colleague?
If you would like to find out more about how to get involved visit Let's Talk About Suicide for more information.