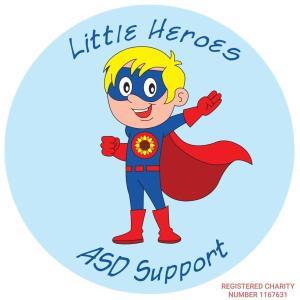 Little Heroes is a Support Group for families of children who are diagnosed with or are going through a diagnosis of Autism Spectrum Disorder (Autism).
As an independent self funded charity, many of our funding avenues have ceased with the current uncertainty of the world. We are trying to complete the adaptions in our hub which we did have great hopes for. The venue was not a habited building and we are looking for assistance to make this happen if you know of any companies or tradespeople that can donate time/labour/materials please get in touch and make something positive come out of this situation. As we say "Never say never".
To see an insight into what Little Heroes ASD Support Group can bring to local families please check out this video: Little Heroes ASD Support Group - Promotional Video
We are based at Little Heroes ASD Support Hub in London Road, Westcliff-on-Sea. Our venue is easily accessible via public transport with a bus stop immediately outside and a train station within walking distance. There is 1 hour parking immediately to the front of our building, two pay and display car parks close by and plenty of on street parking in the local residential area. Check out this video about the hub: 'Never say Never', Little Heroes ASD Support Group
Originally our face to face support sessions was purely on Fridays due to our children centre location, now with our own venue we can be creative. We will continue parent/ carer support sessions each Friday during term time, slowly introducing additional sessions throughout the week including pre-school, home education and after school sessions. One evening per month we will offer a relaxed support session better known as Chat & Chill and Saturdays will bring you our Dad's Club, Girl's Club and Youth Club.
Families, children, and siblings are welcome.
In addition, we offer activities throughout the school holidays and provide suitable events for families whilst offering them the chance to socialise with other likewise families whilst receiving advice and support from one another, as well as potentially creating new friendships within a circle of support. In addition, we invite professionals along to these meetings and activities so families can benefit from their information and advice, it also makes it simpler for them to connect with these people that they may be wary of or find it a little daunting.  Our intentions are that all children no matter what their ability/ disability is that they will be able to participate in activities and events that other neurotypical children can do, we give families the means to do this by arranging such activities in safe and secure surroundings. 
We offer support and advice via our parenting and professional connections network. We aim to work with families as soon as autism is discovered as a possibility.
Families are always welcome to our weekly sessions no matter what the age is of their child/children (after all, our parents have lived and learned and are the experts who can pass on their knowledge and give support to others). However, due to our activities, children, and the fact that we now have many children that are approx 18 months plus, we have an approx upper age limit for the children we put activities on for where appropriate. You will see our range of activities and ages will grow as our original Little Hero grows.
Check out the following videos:
Family explains how the group has helped their journey
The virtual opening of Little Heroes ASD Support Hub
For further information, please find us on Facebook by searching 'Little Heroes ASD Support' or contact us via emailing littleheroes.asd@gmail.com.
When is it on
Saturday 9:30am till 12pm - also Monday to Friday 10am till 2pm.
Who to contact
Contact Name: Kim Drake
Contact Position: ASD Mum, Co-founder and Charity Co-ordinator
Telephone: 07379 897947
E-mail: littleheroes.asd@gmail.com
Website: Little Heroes ASD Support Website
Little Heroes ASD Support Facebook page
To register for monthly updates, please visit the home page of our website.
No cost is required, we aim to remove barriers wherever possible, however donations are always welcome to ensure we can continue to support local families.
Children are always welcome to our sessions, however adult supervision is required. Little Heroes ASD Support Group is not a childcare provider.