Sensory Pathways pilot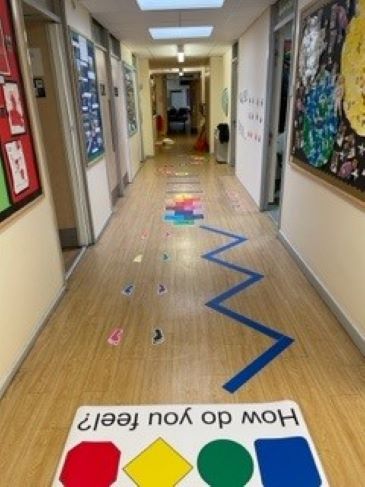 In the spring of 2023, SENDIASS Southend launched a pilot to trial Sensory Pathways in some key stage 1 and 2 settings. This was developed with the assistance of Amelia Howe, Autism Specialist Teacher from The St. Christopher School.
A bespoke pathway design was also created with Amelia for 2 special schools which were installed in the summer term.
A sensory path is a series of guided movements shown by markings on a floor or wall. As children follow the path and complete the movements, they work-off excess energy whilst developing their gross motor skills. The range of movements on a path can be used to engage different parts of the body and brain, from frog hops to spins and wall pushes. Sensory paths are often positioned on flat surfaces in often underutilised school hallways but can be installed anywhere that can be accessed easily.
Teachers and support staff can use sensory paths as a resource for children with a range of difficulties from attention deficit hyperactivity disorder (ADHD) to sensory processing and self-regulation needs. Building movement or sensory breaks into a child's day can meet the provision in an Individual Support Plan (ISP) or Education Health and Care Plan (EHCP) or be used to make a simple reasonable adjustment for any child.
Access to a sensory path will be beneficial to many children not just those who have special educational needs or require adaptations to the curriculum.
Pathways are currently being piloted by 7 settings. You can view the picture on this page to see the pathway.
Information on the outcome of the pilots will be provided when it is available.
How the St Christopher School are using sensory pathways to support the needs of individual learners:
"Some learners like to start the day with self-regulation activities, so they can use the pathways as they come into school and transition into their classrooms. Some small groups will use the pathways to provide a sensory break from the classroom environment during the day, or to support transition between activities.
Adults are also able to support individual learners to use the sensory pathways to help with alerting or calming whenever is needed during the school day. Completing the same sequence of activities, in the same pattern, often helps our learners feel calm and safe in school. The links with Zones of Regulation also support our ongoing work across the school with emotional regulation, providing opportunities for learners to express how they feel, and begin to learn how physical activities and sensory input can help them feel ready to learn.
As a school we are now looking into how we can expand on the sensory pathways project, such as developing an outdoor version, and we use the wall graphics to develop fine-motor and pre-writing skills."